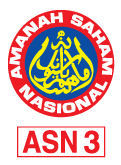 Amanah Saham Nasional Berhad (ASNB), has announced a dividend of 6.40 sen per unit for Amanah Saham Nasional 3 Imbang (ASN3) for the financial year ended 30th November 2013. This is an increase of 0.10 sen per unit compared to last year and it is the highest since 2009.
Kindly refer to "Historical ASN3 Dividend Rate" for previous year dividend.
The dividend will involve a total payment of RM9.10 million and would benefit 11,942  unit holders who hold 142.11 million units of ASN 3.
As of 26th November 2013, gross income of ANS3 stand at RM11.37 million. Profit from the sale of shares contributed RM5.65 million or 49.72%, dividend income contributed RMRM3.31 million or 29.15%, and the remaining of RM2.40 million or 21.13% is derived from investment in short term instruments and other income.
The dividend will be calculated based on the number of unit holdings on 30th November 2013. It will be re-invested into additional units of ASN 3 at net asset value (NAV) on 30th November 2013 and automatically credited into the unit holders' accounts.
For the unit holders who subscribed to the ASN 3 through the Employees Provident Fund (EPF) Members' Investment Scheme, the income distribution will be credited directly into their respective EPF investment accounts.
To facilitate the dividend calculation, all ASN3 transactions have been suspended from 26th November 2013 to 1st December 2013. Unit holders will be able to update their accounts at ASNB head office; ASNB branch offices or ASNB agents starting 2nd December 2013.
ASN 3 is a variable priced balanced fund with the objective of generating capital growth over the medium to long-term period by investing in a balanced portfolio of investments through re-investment of distribution, if any. ASN 3 is opened to all Malaysians aged 18 years and above. It is also listed in the EPF Members' Investment Scheme.