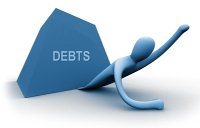 What's so special about being Scottish?
The Scottish government has put in place several programmes to you regain control of your finances if you feel you can no longer manage your debt. These schemes are exclusive to Scottish residents and may just be the solution you need to get you on the path to financial stability.
What solutions are available to me?
There are two main debt solution programmes in place in Scotland that could free you from the stress and anxiety of falling behind with repayment dates, being harassed by creditors or accumulating large amounts of interest; a Debt Arrangement Scheme (DAS) and a Trust Deed. Both of these schemes are designed to take into consideration your personal circumstances so when it comes to calculating how much you will repay each month you will only repay what you can afford.
What is a Debt Arrangement Scheme?
A Debt Arrangement Scheme (DAS) is a programme designed to allow you to repay all of your debts in full over a longer timescale than normal with all interest being frozen and written off. The amount of debt of someone entering a DAS is typically under £8,000 however it is not restricted to this. Excluding interest, no debt included in a DAS will be written off, it will be repaid in full and so a DAS can last up to 10 years normally.
What is a Trust Deed?
A Trust Deed is an agreement you can enter into voluntarily with your creditors in order to agree to repay a percentage of your debt over a set period of time. Normally the amount of debt a person is in when entering a Trust Deed is over£8,000. Trust Deeds can only be administered by a licenced insolvency practitioner (a Trustee) and if the Trust Deed proposal is accepted by enough of your creditors it will become a Protected Trust Deed which means it will be legally binding and your creditors will not be able to chase you for any unsecured debt that may have been included in your Trust Deed. A Trust Deed will normally last 3-5 years at the end of which all remaining debt will be written off, however homeowners that enter into a Trust Deed may have to release any equity they have on their home.
If you think any of these options could help you gain some financial stability and put you on the path to freedom it is vital that you seek professional advice from an approved money advisor who can assess your personal circumstances and advise you on which option could be right for you. Although these solutions could provide you with the help you need to get on your feet it's important to note that they can have a severe impact on your credit rating and ability to obtain credit in the future, especially a Trust Deed.
For more Debt news and advice follow Peter Dean on Twitter – @your_debtexpert