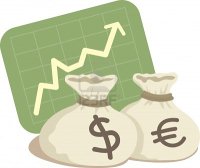 A prerequisite for trading the forex market is the ability to read a currency chart. In this article we cover the basics of forex charts – what the chart measures and what it can reveal about the relative strength of a currency.
The Basics
To begin, a chart is simply a historical representation of the price of a security over a given period of time. Simply put, a chart shows how price of the currency (reflected on the vertical axis) has fluctuated over time (captured on the horizontal axis).
Let us take the example of a EUR USD chart to make this more specific. Remember, currencies trade in pairs so the exchange rate reflects how many dollars can be purchased with one euro. The current exchange rate is roughly 1.29, which means each euro is worth 1.29 dollars.