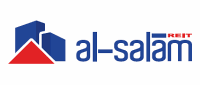 Al-Salam Real Estate Investment Trust (REIT) is scheduled to be listed in Main Market of Bursa Malaysia on the 29th September 2015. The Initial Public Offering (IPO) consists of 252.36 million units at an IPO price of RM1.00 per unit.
Out of these, 240.76 million units are offered to Malaysian and foreign institutional and selected investors and a retail offering of 11.6 million units to the Malaysian public.
The IPO expected to raise RM252.36 million and will be used for future real estate acquisitions thus allowing continual growth prospects of the trust.
Al-Salam REIT is an Islamic real estate investment trust (REIT) under Johor state investment arm Johor Corp.
The REIT has a diversified portfolio ranging from office buildings, shopping malls, college buildings, warehouses and food and beverages retail outlets.
For the time being, Al-Salam REIT owned 31 properties with 1.52 million square feet of net lettable area. The properties are Menara KOMTAR & KOMTAR JBCC Johor Bahru City Centre, @Mart College, KFCH College and QSR Properties comprising 22 restaurant & 5 industrial properties.
As at 1 June 2015, Al-Salam REIT currently enjoys an overall average occupancy rate of its Subject Properties of approximately 94%.
Al-Salam REIT will pay 99.9% of net property income as a dividend. Base on 2016 forecast, the dividend is 6.41 sen per unit.
The table below is the financial summary of Al-Salam REIT.
| | FYE 2011 | FYE 2012 | FYE 2013 | FYE 2014 | FPE Jun 2014 | FPE Jun 2015 |
| --- | --- | --- | --- | --- | --- | --- |
| Revenue (RM'000) | 9,920 | 10,792 | 10,631 | 13,714 | 5,546 | 17,810 |
| Net Property Income (NPI) (RM'000) | 4,662 | 4,888 | 5,105 | (2,080) | (1,104) | 7,217 |
Distributable income is the Net Property income (NPI) minus the utilities, maintenance expenses and other operating expenses such as trust expenses (management fee and trustee fee).
For those who are interested in Al-Salam REIT IPO, you may subscribe at ATM machines or via Internet Banking.
The retail subscription period is opened until 15th September 2015 at 5pm. Tentative balloting date is on 18th September while the allotment date is on 25th September 2015. Al-Salam REIT stock name in Bursa Malaysia is "ALSREIT".
View Al-Salam REIT prospectus in Bursa Malaysia webpage.
What do you think about Al-Salam REIT IPO? Are you going to subscribe?