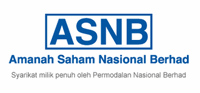 Amanah Saham Nasional Berhad (ASNB), recently launched MyASB Portal with the aim for investor to easily check and make additional investment easily without going through to ASNB office or agents office.
Prior to registering, you have to walk to ASNB or agents branches to update your information and register your mobile number in order to receive Transaction Authorization Code (TAC) as a safety feature. If you are ASB account holder, at the same, request for a new 12 digits account number which may be needed to complete the registration at My ASNB portal.
Once you complete the above, kindly proceed to MyASB Portal for registration. The process is easy, all you need to do is key-in all your information, 12 digits account number password and TAC. Finally, you will be able to view all your accounts with ASNB within the portal.
For the time being, it seem that the portal functionality only limited to view account balance and make additional investment. Account history also only limited to transaction made through My ASNB portal. If ASNB can include all the accounts details transaction that would be very good.