Why the famous statement of, "The rich are getting richer, while the poor are getting poorer" is a mathematically and economically impossible statement. Occupy Wall Street Answered!
Current economic data shown by many economists and journalists out there on income inequality are plain wrong. First, let's start by checking the famous statement of "The rich are getting richer, while the poor are getting poorer".
When you sell cars to many individuals, you will end up rich. But do you know that those people buying your cars, will end up far richer combined, than you? The answer is very simple. When they buy your cars, they use the cars to enable them to go to work, earning wealth in the process. Some turn their cars into taxis, generating wealth in a slightly different way.
As long as the cars are used for wealth generation activities, more new wealth will be created. Paying RM60,000 for a car, but ends up collecting RM250,000 of new businesses is surely a good money making proposition. Take a look at the following data, we analyzed directly from the IRS (from America):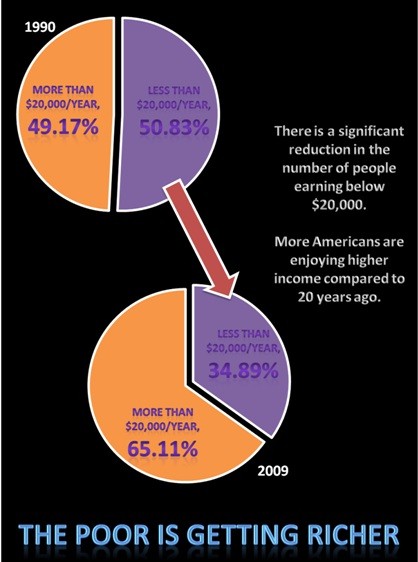 The data presented show that the poor aren't getting poorer, instead, they are getting richer. Don't believe our silly economists, they don't even understand their own data!
Society's 80:20 Rule
In our society, almost all of our rewards structure, be it in the economic sector, education or even sports are based on very stringent selection method for the winners. For example, everyone can run, but a few, can run very fast. They will be the winners in the Olympics, but 99% of the Olympics participants, do not win, and society simply disregard them and instead, rewards the fastest with generous praises, recognition and of course, medals.
Fortunately, our economy is fairer than the Olympics. More just. When you do something good that add value, you will be rewarded by society. The reward process is very fair and transparent. However some of us are very good, they created things that are widely used for adding value into society, for example a light bulb, a microprocessor or a software, and they will enrich not just millions of people, but billions of people. The reward for them? Society give them a token of the new wealth created, say a few billion dollars, and give it to them (by paying for their products). Now we have billionaires, and these billionaires adds not billions into the economic wealth, but trillions of dollars!
Our data showed that for every dollar created at the top 1%, seven dollars are created at the bottom. Who say the rich are getting richer? The poor are!
For additional reading, please find our extensive study 259trillionvs5trillion.com website.
THE BOTTOM 99% IS CONTROLLING MORE WEALTH TODAY THAN EVER BEFORE
Actual data shows the bottom 99% has increased their wealth holding of USA
ANSWERING THE ACCUSATION OF HIGH CEO PAY
High CEO Pay? You will understand why it is not the case, as explained below. Subtle and clever data manipulation misled the public.
THE TOP 1% IS A DYNAMIC PLACE
Think those who are rich, stays rich all the time? And the poor, stays poor indefinitely? Well, think again!
SOCIETY'S 80:20 RULE
Our society favors the select few, by instinct. The reason is explained below.
WHY CURRENT COMPARISON METHODS ARE VERY ERRONEOUS
We cannot compare the classes using the simple 'Top 1%' to the 'Bottom 99%'. Find out why it is erroneous to do so.
THE RISK TAKERS
The rich, before they become one, are mostly risk takers. Even after they are successful, they would still take risks, in order to make society richer.
BIGGEST CONTRIBUTORS TO TAXES
It is no secret that the top few percent of the population paid the most taxes, compared to the rest. Check out just how much and whether there is equality and accountability in our nation finances.
OWS AND NAZI—WHAT THEY HAVE IN COMMON?
Find out what both have in common. Is the Nazi being reborn?
Sharif Rahman is the author of this article. He was invited by 1-million-dollar-blog to write about this topic. He is the co-author of the recently released 259 Trillion Vs 5 Trillion book series (available in Amazon), presenting the banking system in action in full color illustrations and answering the popularly raised question of whether banks print money out of thin air and other questions such as exponential growth of debt and interest.