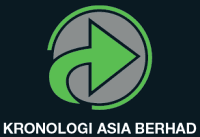 Kronologi Asia Bhd, an enterprise data management specialist, is scheduled to be listed in ACE Market of Bursa Malaysia on 15th December 2014.
The Initial Public Offering (IPO) consists of 59.2 million new ordinary shares at an IPO price of RM0.29 per share at RM0.10 par value. 47.4 million will be for private placement for selected investors, 4.74 million shares to the Malaysian public and remaining 7.1 million shares for eligible directors, employees and person who contributed to the success of the company.
The IPO will raise about RM17.182 million in proceeds. Out of this, RM6 million will used for business expansion, RM3.5 million for Rearch and Development, RM4.482 million for working capital & the remaining RM3.2 million is for listing expenses.
Kronologi Asia was established in 2002. The company provides electronic data management services (EDM) to enterprises, including large corporations and multinationals or small and medium enterprises (SMEs).
Multimedia Development Corporation (MDec) awarded the company a MSC status in May 2014.
EDM services can bed divided into two areas namely infrastructure technology and managed services. Managed services involve managing the backup, storage, recovery and restoration of enterprise data on a subscription model.
Infrastructure technology, on the other hand, refers to the provision of physical hardware, software and/or equipment components of EDM.
Some of the company existing clients include Public Bank Bhd ( Financial Dashboard), Bank of Singapore, StarHub Ltd (Financial Dashboard) and PTT Pcl. Kronologi Asia is also the strategic marketing partner of US-based Quantum Corp Ltd in the Southeast Asian region.
Kronologi Asia already has a presence in the Southeast Asian region and hopes to expand into markets such as Vietnam, Sri Lanka and Myanmar by offering its infrastructure technology services.
More information regarding the company can be found in Kronologi Asia webpage.
For the time being, Kronologi Asia does not have any fixed dividend policy.
The table below is the financial summary for Kronologi Asia Bhd.
| | FYE 2011 | FYE 2012 |  FYE 2013 | FPE June 2013 | FPE June 2014 |
| --- | --- | --- | --- | --- | --- |
| Revenue (RM'000) |  32,778 |  35,795 |  42,170 |  20,974 |  8,941 |
| Profit after Tax (RM'000) |  5,468 |  4,302 |  5,564 |  3,149 |  3,410 |
| Earnings per Share (sen)* |  2.31 |  1.82 |  2.35 |  2.66** |  2.88** |
| Price Earnings Ratio (x)* |  12.57 |  15.98 |  12.35 |  10.91** |  10.08** |
* Based on number of shares post IPO
** Annualized

Bank Islam is the Principle Adviser, Sponsor, Sole Underwriter and Placement Agent of the IPO.
For those who are interested in Kronologi Asia IPO, you may subscribe at ATM machines or via Internet Banking. The subscription period is opened until 4th December 2014 at 5pm. Tentative balloting date is on 8th December while the allotment date is on 10th December 2014.
Kronologi Asia stock name in Bursa Malaysia is "KRONO".
View Kronologi Asia prospectus in Bursa Malaysia webpage.
What do you think about Kronologi Asia IPO? Are you going to subscribe?