Recently, I came across IVSAChart, a web base AutoTrade Trading Advisor software. The software look promising and without wasting too much time, I subscribe to it. I'm here sharing my experience with IVSA ATA Web Based software that was recently launch in 2017.
IVSAChart ATA stands for intelligent Volume Spread Analysis Auto Trade Advisor, which uses proprietary algorithm to indicate buy and sell signals on the chart to serves as an advisor for traders to time the market well, knowing when to buy and when to sell for short, mid and long term gain. It is an upgrade of their previous product, called the IVSAChart Pro, which uses volume spread analysis, coupled with advance algorithm to identify Signs of Strengths and Signs of Weakness to identify the market's next big movers and smart money flow. IVSAChart ATA is highly recommended for beginners as it is very easy to use and helps kick start your trading journey by advising you when to enter and exit. For season traders, it can be serve as a secondary advice before you make any moves in your trades.
Many Market
The Market Coverage for IVSA ATA includes:
→ Kuala Lumpur Stock Exchange (KLSE)
→ Singapore Exchange (SGX)
→ Hong Kong Exchange (HKEx)
→ New York Stock Exchange (NYSE)
→ National Association of Securities Dealers Automated Quotations (NASDAQ)
What I Like
The game changer of this web base software lies on its ability to generate buy and sell signal through the use of 3 diamonds, which are Minor Diamond, Major Diamond and Red Diamond. The following snapshot of a company in KLSE shall illustrate how the diamonds will help a trader to make a profit by timing the market well.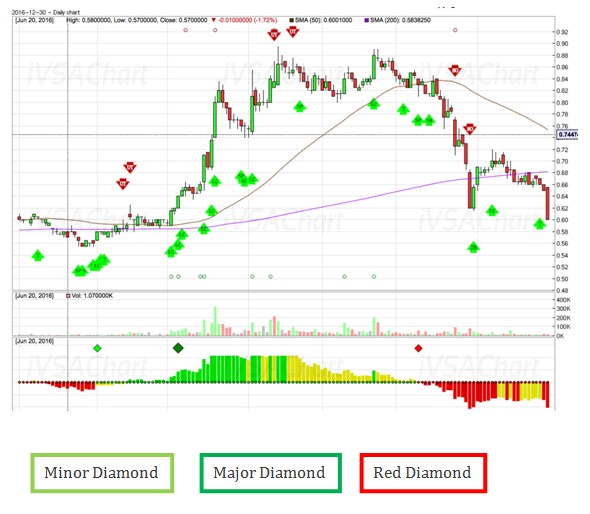 Minor Diamond: Appears when chart shows signs of smart money starts to accumulate shares, breakout may happen but when it happens is still unknown. Great time to enter for traders or investors who wish to maximize returns and have the holding power to wait for the breakout to happen.
Major Diamond: Appears at the start of breakout. Great time to enter for traders or investors to ride on the upcoming rally. Also a good timing to top up existing positions.
Red Diamond: Time to sell.
As you can see from the above example, if a trader follows the diamond indication, he would have made 43% return in a short span of 5 months and avoided a drastic sell down after the red diamond appears. The benefit of using ATA is that it does not require a steep learning curve and the entire process is very mechanical, thus eliminating external factors such as news and emotions affecting your trade results.
The next step will be how do we find stocks which has Minor, Major and Red Diamond in the respective markets as neither it is possible to screen through every counters manually nor to just look on shares that we are familiar with. Hence one of the great features that this software have is the Minor, Major and Red Diamond Screener. This Screener helps us to filter out a list of counters whereby Minor, Major or Red Diamond appears on a particular day in each markets.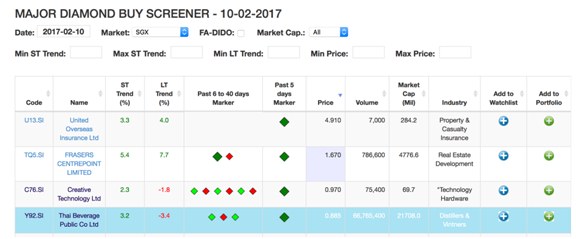 Snapshot above is a Major Diamond Screener listing down all the counters in SGX which presents a Major Diamond buy signal. Users can simply click on the counter name to view its chart. This feature not only saves you time in searching, it also helps to generate trade ideas everyday just within a few clicks.
Try Out Yourself
From my experience, I will highly recommend both beginners and seasoned traders or investors to try out this product as it serves as a great advisor in terms of timing the market. Moreover, the Diamond screener is a great source for trade ideas especially for active traders who are constantly looking for trades. Personally I have felt the benefited of using this software as it gives me more confidence on when to enter and exit a particular counter and also time saving in terms of finding trade ideas.
Try out IVSAChart.