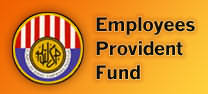 The Employees Provident Fund (EPF) announced dividend rate of 6.35 percent for the financial year ended 31st December 2013 after obtaining approval from Minister of Finance. It was the highest since year 2000 and 0.2% higher than 6.15 percent announced in 2012.
Kindly refer to "Historical Employees Provident Funds (EPF / KWSP) Dividend Rate" page for EPF dividend rate table & chart since 1952. You may want to compare it with by using EPF Dividend Calculator.
The total dividend payout stand at RM31.20 billion from RM35 billon investment income.  The remaining are used for investment expenses, operating expenditures, statutory charges and net impairment allowance on financial assets. The payout representing an increase of 12.81 per cent compared to RM27.45 billion recorded in 2012.