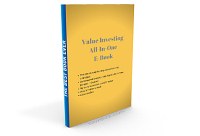 Do you wish to know how to invest successfully like Warren Buffett but feel uneasy to read many books and other study materials?
Are you made some losses in the stock market and wish to discover a better 'system' to invest?
Are you keep worrying about the stock market's ups and downs?
If you are one of the above, then, you really need to be attentive and see what I've got to offer you.
As the title implies, this eBook is all about value investing principles publicly expressed by Warren Buffett, the greatest celebrity investor ever. This eBook will show you extremely simple step-by-step strategies to follow when a stock comes into your mind.