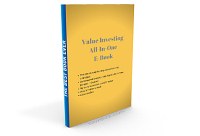 Do you wish to know how to invest successfully like Warren Buffett but feel uneasy to read many books and other study materials?
Are you made some losses in the stock market and wish to discover a better 'system' to invest?
Are you keep worrying about the stock market's ups and downs?
If you are one of the above, then, you really need to be attentive and see what I've got to offer you.
As the title implies, this eBook is all about value investing principles publicly expressed by Warren Buffett, the greatest celebrity investor ever. This eBook will show you extremely simple step-by-step strategies to follow when a stock comes into your mind.
This eBook is special as compared to other investment books out there as the author have summarized every important bit of value investing into an eBook which only costs you US$ 48, and you can definitely apply them for a lifetime!
Most importantly, what you really need to focus on, is the 5R Model in my eBook. This 5R Model emphasizes on what characteristics should a company possess in order to be a good long term investment which can make you sleep soundly at night, without the need to worry about the stock market.
The author will also teach you how to calculate the intrinsic value of a stock. Not only that, you will have full access to my intrinsic value template for FREE after you purchased the eBook. Note that value is not necessarily equal to market price.
At the last part, you will be able to see how the author used his step-by-step thoughts to make certain investment decisions. Recently, Warren Buffett's biggest acquisition, Precision Castparts was analyzed in my eBook. You should really take a look at it.
What are you waiting for? Be like Warren Buffett by learning from the expert. Get the eBook.
It is recommended that you take a look at this first before you purchase any other investment study materials.