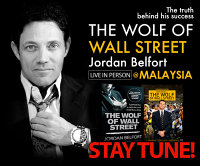 There's a lot of buzz and controversy surrounding the next event Success Resources will be organizing… For one thing, the movie based on the life story of the keynote speaker has been banned in Malaysia! I'm sure some of you have seen some clips from the movie leaked on the Internet but so much more about him is a mystery.
Jordan Belfort, the Wolf of Wall Street himself will be appearing LIVE and in person in Kuala Lumpur in July 2014.
 Who is Jordan Belfort?