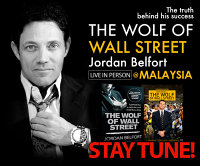 There's a lot of buzz and controversy surrounding the next event Success Resources will be organizing… For one thing, the movie based on the life story of the keynote speaker has been banned in Malaysia! I'm sure some of you have seen some clips from the movie leaked on the Internet but so much more about him is a mystery.
Jordan Belfort, the Wolf of Wall Street himself will be appearing LIVE and in person in Kuala Lumpur in July 2014.
 Who is Jordan Belfort?
Jordan Belfort is an American motivational speaker and former stockbroker. The Oscar-nominated movie The Wolf of Wall Street is a film adaptation of his life story. During the 1990's, he soared to the highest financial heights, earning over $50 million a year, a feat that earned him the name "The Wolf of Wall Street." At the time, he had over 1,000 stockbrokers working for him, all trained in his sales techniques. He also raised over $1.5 Billion in venture capital, kick-starting multiple companies from scratch and held controlling stakes in more than thirty of them.
 What Will/Can Learn from Jordan Belfort
Jordan is committed to showing you how you can replicate his strategies for massive success. You will learn:
What holds the average person back from achieving more in life
The 8 skills you must know for business, sales & entrepreneurial success
Overcoming the 6 limiting beliefs about money
The 4 Rules of entrepreneurship
His "Three Tens" – creating and measuring certainty
Mastering the hidden language of influence
The crucial difference having goals and having a vision
Increasing your sales confidence, closing rate and income
How to raise money through Venture Capital and Angel Investors
Jordan Belfort's private clients pay a minimum of US$50,000 per day for his time, and you can get his advice for a mere fraction of the price.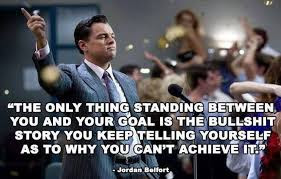 Hear How Others Have Benefitted from His Consultation
Jordan's Straight Line training ranks at the very top in delivering financial results. I walked away with immediate and practical solutions that I could apply in my own business and also transfer to my team. Within 6 months, we saw our revenue grow by a staggering 25%. Jordan, you have inspired me to push beyond my doubts and discover possibilities I never knew existed. Your ability to share your wisdom and experiences with the Straight Line Persuasion System is simply amazing. Thanks, Jordan! " – Juliana Gim
Jordan's ability to train and motivate salespeople at all levels of expertise is second to none. In March of 2011, he spent 1 full day training Amcom's sales staff in the Straight Line System, and the results were incredible. Sales increased by 26% the following month and have continued to rise ever since. – Tony Grist – Chairman of Amcom
I was able to get Jordan to spend half a day with my key sales team and he provided one of the most amazing key notes that I have ever seen. My staff were incredibly inspired and this resulted in an immediate uplift in sales and has continued to provide a positive reference point. It was without doubt the most beneficial session that my staffs have benefited from. " – David Cramond – Managing Director of Harvey Norman Australia
Download the FREE E-Bonus from Jordan Belfort – The "Lost Chapter" from his bestelling book, "The Wolf of Wall Street". Click here!
https://1-million-dollar-blog.com/go/lostchapter/
 The Wolf of Wall Street by Jordan Belfort
Event:  The Wolf of Wall Street
Date:  July 30th 2014
Venue:  Hotel Istana, Kuala Lumpur
Speaker:  Jordan Belfort
Pricing*:  RM297/General Ticket (Buy 1 Free 1)
*Promotion price starts TODAY, closing date 4th July 2014
Official website: http://bit.ly/WOW0714_1MILLION
For any enquiries please call Amanda at 016-2133855