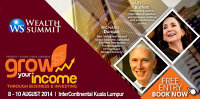 Investing in the right channels can be tricky business. Most people approach investing like gambling. They invest their money in what they feel has a good chance of getting a return and hope to get a good return. That's like placing a "bet" with the hope they will "win big".
If that's your approach, you need to shift your focus in investing away from "winning big" instead to "building wealth".
The concept of building wealth is often misunderstood in our society. Mention it and the first thing that comes to mind is a big house, fast cars, private jets and living the high life. The truth is, wealth is something completely different. In fact, building wealth is a necessity because if there's ever a day you choose not to work or wouldn't be able to work, you won't have to worry about money.
If you want to change the "default" direction of your financial plan, the time to do it is now. You need to start learning how to build and grow your wealth and the place to do that is at the Wealth Summit 2014, organized by Success Resources. Over this 3-day seminar, you will hear from experts in business, the stock market, and property, to share with you EXACTLY how you can use these vehicles to get you moving towards the life of your dreams. You will walk away with a goal, a plan, a strategy and the business connections to support you in your journey.
The panel of speakers for Wealth Summit 2014 who will guide you in your wealth bulding journey are:
Mary Buffett – Bestselling Author, International Speaker, Entrepreneur & Investing Expert.
Richard Duncan – Bestselling Author, Financial Sector Specialist in the World Bank & Global Economic Specialist.
Chan Peng Joon – Voted #1 Digital Marketer.
Sean & Cayden – Masters of Value Investing.
Jonathan Quek – Quoted Asia's Youngest Wealth Coach, Entrepreneur & Financial Speaker.
Dato' Tan Su Cheng – Malaysia's Leading Expert for Entrepreneurs.
Colin Daymude – demand professional speaker and Boot camp facilitator who specializes in topics on Personal Development, Goal Setting and Relationship Marketing and how to leverage your own books for success.
Kathlyn Toh – Professional U.S Market Investor & Trader.
Kevin Green
Jonathan Quek
Each of these speakers are experts in their respective fields. You'll get information in an entertaining and engaging way. It is 3 days of remarkable insights into the limitless possibilities in your life, both personally and professionally. This is a great opportunity for you to re-charge, and a reminder yourself of what we need to do in your life and business.
On top of that, you will learn from the experiences of our experts who have journeyed ahead of you and learn the lessons from their past mistakes and failures so you don't repeat them. Your income will only grow to the extent that you do and this is the place for you to get the personal development and practical strategies to support you in building your wealth.
If you want to learn how to start building your wealth through property, stocks and forex with little or no capital, do not miss out Wealth Summit 2014, 8th-10th August 2014 @ Intercontinental Hotel, KL.
To redeem the complimentary ticket, CLICK HERE.
We are only giving away total 68 tickets to One-Million Dollar Blog subscribers, this is on a first-come first-serve basis!