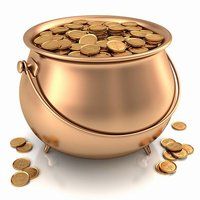 There are a few ways to invest in gold. One of the most popular ways is via Investment or Savings account with a bank. The main benefit of this method is,  investor does not need to worry about keeping the physical gold by themselves.
Currently, there are 5 banks offer gold investment or savings account. Normally, banks will issue either passbook or statement to the depositors. Some of the banks do allow physical gold withdrawal.
Banks that currently offer these services are,
CIMB Bank – Gold Deposit Account (GDA)
Kuwait Finance House (KFH) – Gold Account – i (GAi)
Maybank – Maybank Gold Investment Account (MGIA)
Public Bank – Gold Investment Account (GIA)
United Overseas Bank (UOB) – Gold Savings Account (GSA)
The following table are the details comparison between 5 investment or savings accounts.
| | CIMB Bank | KFH | Maybank | Public Bank | UOB |
| --- | --- | --- | --- | --- | --- |
| Min Initial Deposit | 10 grams | 10 grams | 1 gram | 20 grams | 20 grams |
| Min Subsequent Transaction | 5 grams & multiple of 1 gram | 5 grams & multiple of 1 gram | 1 gram | 5 grams & multiple of 1 gram | Multiple of 5 grams |
| Min Balance | 1 gram | 2 grams | 1 gram | 2 grams | 10 grams |
| Cash Withdrawal | Yes | Yes | Yes | Yes | Yes |
| Physical Gold withdrawal | Multiple of 100 grams | Multiple of 1, 5, 10, 50 & 100 grams | No | Yes | Yes |
| Charge on Physical Withdrawal | RM1 per gram | N/A | N/A | N/A | Yes |
| Annual Fees | RM5 if year end balance <10 grams | N/A | Unknown | RM10 if year end balance <10 grams | RM2 if month end balance <10 grams |
| Price Spread per gram* | ~ RM4.25 | Unknown | ~ RM5.70 | ~RM5.50 | ~ RM2.00 |
| Latest Prices | Click here | Unknown | Click here | Click here | Click here |
| Website | Click here | Click here | Click here | Click here | Click here |

* as of 9th March 2011