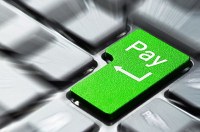 In Malaysia, online shopping grows tremendously in the recent years. In the year, 2010, the market size for online shopping was approximately RM 1.8 billion. The figure is expected to grow over RM 5 billion in 2014, which represent 35 percent increase per year
Low prices, convenience, easy to compare & save time are among the main reason why Malaysian shop online.
Entrepreneurs may want to take advantage of the scenario by launching an online shopping website. If you're one of them or planning to be, you want to explore the choice of Payment Processors that is available in Malaysia.
By definition, Payment Processor is a company appointed by a merchant to handle payment transactions, including cash or credit card.
You may not need Payment Processor is your store is small & the customers pay directly to your bank account. By doing this, you have to keep track all the money going to bank account & match with orders.
As the store grows, this kind of manual process will be very tedious and Payment Processors will be very handy as they match the order & payment. On top of that you can accept credit card payment too. However, there are some fees associated with the services.
At the time of writing, the most popular Online Payment Gateway Services in Malaysia are Paypal, ipay88, MOLPay (formally known as NBEPay) & Webcash.
To help you choose the most suitable payment getaway, kindly take a look at the comparison table below.
Paypal
Webcash
iPay88
MOLPay
Setup Fee
Free
Free
RM488
Premium – RM400
Lite – RM499
Credit Card Setup Fee
Free
Free
Free
RM900
Annual Fee
Free
Free
SME Plan – RM500
SOHO Plan – Free
Premium – RM499
Lite – RM99
Credit Card Transaction Fee
3.4% + RM2
4%
SME Plan – 3%
SOHO Plan – 4%
Premium – 3%
Lite – 3.8%
Withdrawal Frequency
No limit
Weekly
Weekly
Weekly
Withdrawal Fee
RM4 if amount less than RM400
No
No
RM2
FPX & Malaysia Online Bank Transfer
No
Yes
Yes
Yes
FPX & Malaysia Online Bank Transfer Fee
N/A
2%
4%
Premium – 3%
Lite – 3.8%
Website
Visit
Visit
Visit
Visit


On top of the transaction fee, remember to ask them about the integration with your shopping cart software. In this area, Paypal has an advantage over other payment getaway because most of shopping cart software support them.
Which Payment Processor is your choice? I'm using PayPal for international payment & Webcash for local payment.