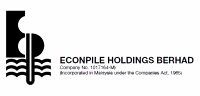 Econpile Holdings Bhd, a piling and foundation works specialist, is scheduled to be listed in Main Market of Bursa Malaysia on 30th June 2014.
The Initial Public Offering (IPO) consists of 90 million new ordinary shares and offer for sale of 55 million shares at an IPO price of RM0.54 per share at RM0.20 par value. 114.5 million will be for private placement, 3.5 million shares to the eligible directors and employees while the remaining 27 million shares will be opened to the Malaysian public.
The IPO will raise about RM48.60 million in proceeds. Out of this, RM14.58 million will be use to purchase machinery & equipment, RM12.15 million for repayment of bank borrowing, RM18.16 million working capital & RM3.71 million is for listing expenses.
Econpile, a piling and foundation specialist, holds a Grade 7 licence from the Construction Industry Development Board of Malaysia. It has two core business, namely piling and foundation services. Under its piling segment, the firm provides bored, driven and jack-in piles. It specialises in bored piling, which is the most efficient of the three piling techniques.
The company current project is The Hub in Petaling Jaya SS2, the 50-storey Elite Pavilion tower in Jalan Bukit Bintang, and an underground pedestrian crossing that will link Pavilion KL to Fahrenheit 88.
Econpile has a 13% share of Malaysia's piling and foundation services market, which was valued at RM2.83bil as of end-2012.
Besides property-related projects, Econpile has also done work for power plants such as Manjung 4, Tanjung Bin and Jimah.
The firm gets most of its jobs from the Klang Valley, although Penang and Johor are catching up, he notes. Econpile is most often compared to Pintaras Jaya, the only listed piling firm on Bursa Malaysia.
More information regarding the company can be found in Econpile Holdings webpage.
Econpile Holdings intends to pay 20 percent of its profit after tax as dividend. Base on 2013 figures & IPO price of RM0.54, this translate to dividend yield of 1.93 percent or 1 sen per share.
The table below is the financial summary for Econpile Holdings Bhd.
| | FYE Jun 2011 | FYE Jun 2012 | FYE Jun 2013 | 7 month FPE Jan 2013 | 7 month FPE Jan 2014 |
| --- | --- | --- | --- | --- | --- |
| Revenue (RM'000) |  207,647 |  305,783 |  386,066 |  240,184 |  263,172 |
| Profit after Tax (RM'000) |  11,298 |  17,228 |  27,865 |  20,917 |  18,445 |
| Earnings per Share (sen)* |  2.11 |  3.22 |  5.21 |  6.70** |  5.91** |
| Price Earnings Ratio (x)* |  94.86 |  16.77 |  10.37 |  8.06** |  9.14** |
* Based on number of shares post IPO
** Annualize

RHB Investment Bank is the principal adviser, underwriter and placement agent of the IPO.
For those who are interested in Econpile Holdings IPO, you may subscribe at ATM machines or via Internet Banking. The subscription period is opened until 18th June 2014 at 5pm. Tentative balloting date is on 20th June while the allotment date is on 25th June 2014.
Econpile Holdings stock name in Bursa Malaysia is "ECONBHD".
View Econpile Holdings prospectus in Bursa Malaysia webpage.
What do you think about Econpile Holdings IPO? Are you going to subscribe?