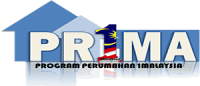 Program Perumahan 1Malaysia or 1Malaysia Housing Programme (PR1MA) was launched on the 4th July 2011 by Prime Minister Datuk Seri Najib Tun Razak.
The programme aim to assist the middle-income group who can neither afford to buy high-end property nor are eligible for existing My First Home Scheme and other low-cost public housing scheme to own a home.
Middle income groups are those with household income in between RM2,500 to RM7,500 per month regardless whether they work with the government, the private sector or self-employed.
After more than a year, finally Malaysian public can apply for the programme although there was a single opening for a project in Putrajaya at the end of 2011. For those who are eligible and interested to apply, you may register now.
Below are the steps required to register for PR1MA.
Step 1 : –
Check eligibility criteria and required documentation
Details
Eligibility
Malaysian citizens with monthly average household income between RM2,500 to RM7,500
Applicant must be at least 21 years old at the time of the application
Not a bankrupt
Currently, not own more than one property
Restriction
Not allowed to sell the house within 10 years to prevent speculative activities
Not allowed to rent the unit. Only for own occupation


Documentation required are individual profile, spouse information, children information, property information and proof of employment & income (employer verification letter, EA form, EPF statement & Salary slip)
Step 2 : –
Register online at official PR1MA website. Fill up all the required information and attached all the supporting documents.
You may choose PR1MA development that is currently available. You will be notified by e-mail & SMS when PR1MA development of your choice became available. Once, PR1MA development of your choice became available, submit an application for balloting.
At the time of writing, PR1MA development are available at Nusantara Prima (Johor Bharu), PR1MA Penang, Seremban Utara, Seremban 2, Rasah & Senawang.
Step 3 : –
All applications will undergo a verification process. Only successful application will go to balloting process. Successful applicants will be notified and listed in official PR1MA website.
More information
Details information are available at official PR1MA website.