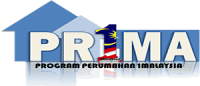 On the 4th July 2011, Prime Minister Datuk Seri Najib Tun Razak launched Program Perumahan 1Malaysia or 1Malaysia Housing Programme (PR1MA). The programme aim to assist the middle income group who can neither afford to buy high-end property nor are eligible for existing My First Home Scheme and others low-cost public housing scheme to own a home.
Middle income group are those with household income in between RM2,500 to RM7,500 per month regardless whether they work with the government, the private sector or self-employed.
The programme will be plan and coordinate projects by 1Malaysia Housing Programme Corporation, and placed under the Prime Minister's Department. The corporation would also distribute houses under the projects to eligible recipients.
Below are the details of 1Malaysia Housing Programme (PR1MA).
Details
The Programme
42,000 houses on 20 strategic sites in Klang Valley, Rawang and Seremban
8 projects expected to commence in 2011 & 2012
Developed by Putrajaya Holdings, SP Setia, Tradewinds, Cyberview, Sime Darby Property, MRCB Resources and 1MDB
Features
Each unit will be sold between RM100,000 and RM400,000 depending on location and size
Each unit would be between 800 and 1,400 square feet with three bedrooms and two bathrooms
Eligibility
Malaysian citizens with monthly household income between RM2,500 to RM7,500
Applicant must be at least 21 years old at the time of the application
Not a bankrupt
Currently, not own more than one property
Restriction
Not allowed to sell the house within 10 years to prevent speculative activities
Not allowed to rent the unit. Only for own occupation
Financing
Financing up to 105% from selected financial institutions. The additional 5% is for insurance and Sales and Purchase legal fees
Stamp duty will be exempted
Maximum financing tenor of 30 years
EPF savings withdrawal through the existing mechanisms
The first project under PR1MA programme are 560 apartment units at precinct 11 Putrajaya. Each unit will be sold at RM120,000 and it is cheaper than the earlier price set.