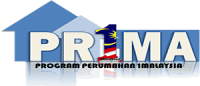 Program Perumahan 1Malaysia or 1Malaysia Housing Programme (PR1MA) was launched on the 4th July 2011 by Prime Minister Datuk Seri Najib Tun Razak.
The programme aim to assist the middle-income group who can neither afford to buy high-end property nor are eligible for existing My First Home Scheme and other low-cost public housing scheme to own a home.
Middle income groups are those with household income in between RM2,500 to RM7,500 per month regardless whether they work with the government, the private sector or self-employed.
After more than a year, finally Malaysian public can apply for the programme although there was a single opening for a project in Putrajaya at the end of 2011. For those who are eligible and interested to apply, you may register now.
Below are the steps required to register for PR1MA.