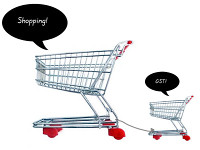 Recently, the Malay Mail Online published on their website about a just-released public opinion survey carried out this month by independent pollster Merdeka Center, 55 per cent of the 1,005 respondents said that they did not understand how the GST worked. Out of the total, 20 per cent of Malaysians said they know nothing about the GST, while 35 per cent said they do not know very much.
On January 2014, there will be a FREE online seminar to share the practical tips about GST implementation and application in both English & Mandarin. Registration page is at http://foundermethod.com/gst-training-malaysia
There are many GST workshops or sessions conducted by accounting firms that are highlighting this issue. However, this online seminar is specially cater for people who are time pressed or geographically isolated to attend physical seminars.