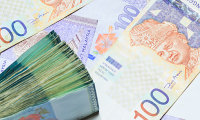 Bank Negara Malaysia (BNM) was established on 26 January 1959 and it is the sole issuer of Malaysian Ringgit. On 12 June 1967, the first Malaysian Ringgit issued to replace the Malaya and British Borneo dollar.
In 1993, the currency symbol "RM" (Ringgit Malaysia) was introduced to replace the use of the dollar sign "$".
Since the first issuance, the value of gradually increase as Malaysian economy prospers. Do you know how much is printed Malaysian Ringgit Currency Note in circulation?
The table below show the total the of Malaysian Ringgit Note circulated in the economy since 1975 excluding RM500, RM1,000 notes and coins valued about RM2 billion.