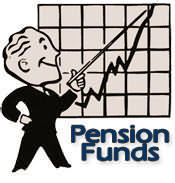 Sovereign pension fund is a fund established by national authorities to meet of pension liabilities. In Malaysia, there are 2 sovereign pension funds namely, Employees Provident Fund (EPF) and Kumpulan Wang Persaraan (KWAP). However, only EPF was listed in top 26 largest Sovereign Pension Funds. The data shown here are as of end 2012 & early 2013.
EPF down 1 spot from 6th spot in 2012 to 7th spot in 2013 with total assets grew from $153.9 billion to $175.7 billion or 14.2%. The top spot retained by Japanese Government Pension Investment Fund with the fund size exceeding $1.29 trillion.
The table below is top 26 world's largest sovereign pension funds.
| Rank | Fund | Country | Total Assets ($mill) |
| --- | --- | --- | --- |
| 1 | Government Pension Investment Fund | Japan | 1,292,003 |
| 2 | Government Pension Fund | Norway | 712,606 |
| 3 | National Pension Corporation | Korea | 368,450 |
| 4 | Central Provident Fund | Singapore | 188,430 |
| 5 | Canada Pension Plan | Canada | 184,425 |
| 6 | National Social Security Fund | China | 177,486 |
| 7 | Employees Provident Fund | Malaysia | 175,720 |
| 8 | GEPF | South Africa | 122,225 |
| 9 | National Wealth Fund | Russia | 88,064 |
| 10 | The Future Fund | Australia | 85,546 |
| 11 | Fondo de Reserva de la Seguridad Social | Spain | 81,857 |
| 12 | Employees' Provident Fund | India | 68,138 |
| 13 | Public Institute for Social Security | Kuwait | 53,867 |
| 14 | Labor Pension Fund | Taiwan | 53,099 |
| 15 | FRR | France | 48,301 |
| 16 | AP Fonden 3 | Sweden | 36,746 |
| 17 | AP Fonden 2 | Sweden | 36,403 |
| 18 | AP Fonden 1 | Sweden | 35,561 |
| 19 | AP Fonden 4 | Sweden | 34,767 |
| 20 | Zilverfond | Belgium | 25,304 |
| 21 | State Pension | Finland | 20,269 |
| 22 | National Pensions Reserve | Ireland | 20,059 |
| 23 | AP Fonden 7 | Sweden | 18,468 |
| 24 | FEFSS | Portugal | 14,443 |
| 25 | Fonds de Comp. de la Securite Sociale | Luxembourg | 13,620 |
| 26 | The New Zealand Superannuation Fund | New Zealand | 13,078 |

Source : Towers Watson