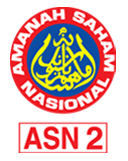 Amanah Saham Nasional 2 unit holders will receive a of 7.10 sen per unit for Amanah Saham Nasional 2 ( ASN 2) for the financial year ended 30 June 2013. The figure is 0.6 sen higher when compared with 6.5 sen per declared last year & the highest payout for the past 13 years since 2001
Kindly refer to "Historical Amanah Saham Nasional 2 (ASN2) Dividend Rate" page, for previous year dividend.
The dividend will involve a payment of RM12.61 million which will benefit 8,483 unit holders who subscribe to 183 million units.
As of 26th June 2013, ASN 2 has recorded a gross income of RM19.10 million. Dividend income from investee companies contributed RM7.70 million or 40.3 percent of gross income while profit from the sale of shares contributed RM9.69 million or 50.7 percent. The remaining income of RM1.71 million or 9 percent is derived from other investments.
In order to facilitate dividend calculation, all transactions for ASN 2 at the ASNB offices and agents have been suspended from 27th to 30th  June 2013 to facilitate the calculation of income distribution.
The income distribution is calculated based on the units held on the last day of the ASN 2 financial year ended 30 June 2013. The income distribution payment will be re-invested into additional units and will be automatically credited into the unit holders' accounts based on the net asset value as at 30 June 2013, whilst the income distribution payment for unit holders who subscribe through the Employees Provident Fund Scheme (EPF) will be credited into their EPF accounts respectively.