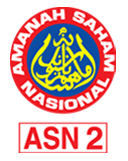 Amanah Saham Nasional 2 unit holders will receive a of 7.10 sen per unit for Amanah Saham Nasional 2 ( ASN 2) for the financial year ended 30 June 2013. The figure is 0.6 sen higher when compared with 6.5 sen per declared last year & the highest payout for the past 13 years since 2001
Kindly refer to "Historical Amanah Saham Nasional 2 (ASN2) Dividend Rate" page, for previous year dividend.
The dividend will involve a payment of RM12.61 million which will benefit 8,483 unit holders who subscribe to 183 million units.