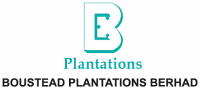 Boustead Plantations Bhd, the plantation arm of Boustead Holdings Bhd, is scheduled to be listed in Main Market of Bursa Malaysia on 26th June 2014.
The Initial Public Offering (IPO) consists of 656 million shares comprising offer for sale up to 76million existing shares and public issue of 580 million new shares. 163.57 million will be offered to institutional investors, while the remaining 492.43 million will be offered to retail investors, including unitholders of Al-Hadharah Boustead Reit, Boustead Holdings and eligible directors and employees. 64 million shares will be opened to the public.
The retail price of the offering is RM1.60 per share at RM0.50 par value. The final retail price will be determine through book building exercise. If the final retail price is less than the retail price, there will be a refund to the retail investors.
The IPO will raise about RM928 million in proceeds. Out of this, RM420 million will be use for plantation land acquisition, RM96 for replanting and capital expenditure, RM390 million for repayment to Boustead Holdins Berhad & RM22 million is for listing expenses.
The company plans to expand its plantation land to 100,000ha in the next three years from 71,000ha currently by acquiring estates and reserve lands nationwide. Boustead Plantation will do gradual replanting of oil palms using the more superior clonal planting material.
To date, Boustead Plantations owns 41 oil palm estates and 10 palm oil mills in the country, with 20 estates in Peninsular Malaysia, 12 in Sabah and nine in Sarawak.
There are no cornerstone investors for the IPO.
More information regarding the company can be found in Boustead Plantations webpage.
Boustead Plantations intends to pay at least 60 percent of its profit after tax as dividend. Base on 2013 figures, this translate to dividend yield of 3.74 percent or 6 sen per share.
The table below is the financial summary for Boustead Plantations Bhd.
| | FYE 2011 | FYE 2012 | FYE 2013 |
| --- | --- | --- | --- |
| Revenue (RM'000) |  948,998 |  836,745 |  684,996 |
| Profit after Tax (RM'000) |  297,001 |  155,457 |  159,670 |
| Earnings per Share (sen)* |  18.56 |  9.72 |  9.98 |
| Price Earnings Ratio (x)* |  8.62 |  16.47 |  16.03 |
* Based on number of shares post IPO

For comparison, shares in several other listed plantation companies with a market capitalisation of between RM2 billion and RM3 billion such as Hap Seng Plantations Holdings Bhd's are trading at a historical PER of 18.48 times, IJM Plantations Bhd 32.47 times and Sarawak Oil Palms Bhd at 27.54 times.
Affin Investment Bank is the principal adviser, joint global coordinator, joint bookrunner, managing underwriter and joint underwriter for the of the IPO.
For those who are interested in Boustead Plantations IPO, you may subscribe at ATM machines or via Internet Banking. The subscription period is opened until 11th June 2014 at 5pm. Tentative balloting date is on 16th June while the allotment date is on 24th June 2014.
Boustead Plantations stock name in Bursa Malaysia is "BPLANT".
View Boustead Plantations prospectus in Bursa Malaysia webpage.
What do you think about Boustead Plantations IPO? Are you going to subscribe?