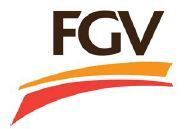 FELDA Global Ventures Holdings Bhd, a plantation operator, downstream products and refined sugar produce is scheduled to be listed in Main Market of Bursa Malaysia on 28th June 2012.
The Initial Public Offering (IPO) consists of 1.92 billion shares will be offered to the institutional investors while the remaining 283.61 million shares will be offered to retail investors at a price of RM4.55 per share at RM1.00 par value.
The final price will be the lower of retail price and 98% of the institutional price. There will be a refund to the difference if the final retail price is less than the retail price.
The institutional offering involves a total of 1.21 billion shares and 286.85 million issue shares allocated for Malaysian and foreign institutional investors, while 419.54 million issue shares are set aside for Bumiputera institutional and selected investors approved by International Trade and Industry Ministry, at the institutional price.
The retail offering involves 200.65 million issue shares to be offered to eligible employees, Felda settlers and those who have contributed to the success of FGVH and its subsidiaries, while 72.96 million issue shares will be made available to the Malaysian public.
FGHV is a global agricultural and agri-commodities company with operations across 10 countries. The group is involved in three main business segments, namely plantations business, downstream business and sugar business.
FGHV currently operates 343,521ha of oil palm plantation estates in Malaysia. Its 49 per cent-owned associate, Felda Holdings Bhd, is the world's largest producer of crude palm oil, while its subsidiary, MSM Holdings Bhd, is the country's leading refined sugar producer.
According to global business research and consulting firm Frost & Sullivan, FGVH is the world's third largest oil palm planter.
More information regarding the company can be found in FELDA Global Ventures Holdings webpage.
FELDA Global Ventures Holdings intends to pay 50 percent of profit after tax excluding non-recurring income as a dividend. Based on At an IPO price of RM4.55 & 2011 figures, the dividend yield is 3.06% or 13.91 sen per share.
The table below is the financial summary for FELDA Global Ventures Holdings Bhd.
| | FYE 2009 | FYE 2010 | FYE 2011 |
| --- | --- | --- | --- |
| Revenue (RM'000) |  2,880,343 |  5,804,601 |  7,474,846 |
| Profit after Tax (RM'000) |  432,868 |  929,367 |  1,014,665 |
| Earnings per Share (sen) |  11.87 |  25.48 |  27.81 |
| Price Earnings Ratio (x) |  38.35 |  17.86 |  16.36 |
CIMB Investment Bank and Maybank Investment Bank is joint the principal adviser,  joint managing underwriters and joint underwriters of the IPO.
For those who are interested in FELDA Global Ventures Holdings IPO, you may subscribe at ATM machines or via Internet Banking. The subscription period is opened until 12th June 2012 at 5pm. Tentative balloting date is on 15th June while the allotment date is on 26th June 2012.
FELDA Global Ventures Holdings stock name in Bursa Malaysia is "FGVH".
View FELDA Global Ventures Holdings prospectus in Bursa Malaysia webpage.
What do you think about FELDA Global Ventures Holdings IPO? Are you going to subscribe?