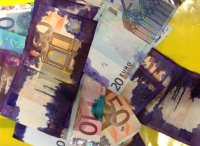 If someone or shop pass to you Dye-Stained Banknotes banknotes don't accept it. Beware, the banknotes may come from banks or ATM machine's robbery! We obviously don't want to be implicated in any on these criminals.
Recently, due to  sharp increase in ATM robberies in Malaysia, Bank Negara Malaysia (BNM) introduced Currency Protection Device (CPD) to deter ATM robberies.
CPD will emit a bright-colored dye ink (using either smoke and/or liquid dye or any other agent) to stain banknotes in the event the ATMs/CDMs are attacked.