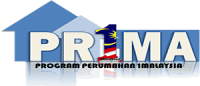 On the 4th July 2011, Prime Minister Datuk Seri Najib Tun Razak launched Program Perumahan 1Malaysia or 1Malaysia Housing Programme (PR1MA). The programme aim to assist the middle income group who can neither afford to buy high-end property nor are eligible for existing My First Home Scheme and others low-cost public housing scheme to own a home.
Middle income group are those with household income in between RM2,500 to RM7,500 per month regardless whether they work with the government, the private sector or self-employed.
The programme will be plan and coordinate projects by 1Malaysia Housing Programme Corporation, and placed under the Prime Minister's Department. The corporation would also distribute houses under the projects to eligible recipients.
Below are the details of 1Malaysia Housing Programme (PR1MA).