Lately, a lot of buzz, cries and shouting out there that the world should go back to using gold as money.  The purpose of this article is to show what will actually happen to us, to our 'gold money' if gold is actually being used as money, to replace our existing fiat paper standard.  Let's assume that we started to use gold as our money beginning in 1996, which is exactly 15 years ago.
First a little bit of history.  Gold was widely used before but was removed by our grandfathers.  Perhaps today's generation forgot as to why gold was removed.  Gold was found to be inherently unstable, difficult to be used as money.  So it was removed and replaced with a better kind of money, our existing paper money.  Paper money was so successful, it was the most successful kind of money ever.  It is cheap, easy and almost counterfeit proof.  Gold money possesses none of those ideal characteristics.
Now on to gold.  In order to get the true value of gold, independent from the changes in paper money's value due to inflation, we have to filter out the effects of inflation on gold.  Once removed, the mask that hides the true value of gold will disappear, revealing the actual price of gold, its true price, due to its own supply and demand.  The graph is shown below.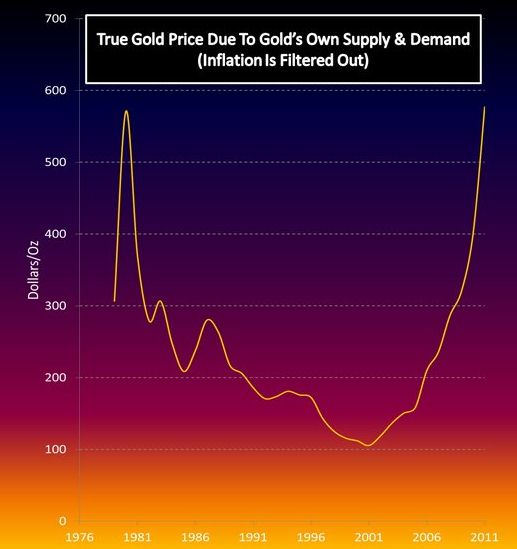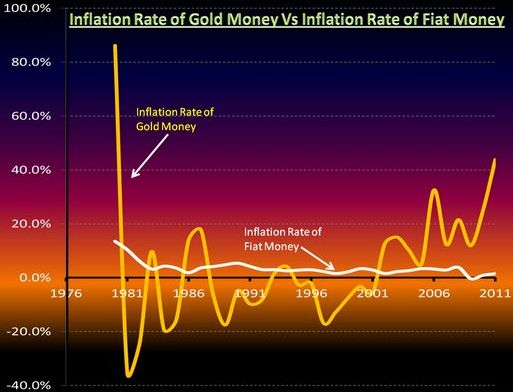 As you can see, the changes in the value of gold, is erratic and wild!  Imagine the gold you have, the coin you are carrying with you, lost 50% of its value within the same year (paper money lost at the most one to two percent a year).  If that happen, the prices of all goods and services you need to purchase, will double!  That's ridiculous!  But that is the truth! For paper money, losing a percent of its value is only losing 1/100 of its initial value.  But not for gold, it is a loss of 50/100.  That's 50 times more folks.
Well, looking at the graph, how would you imagine you are going to manage your finance if your income goes down 50% in a year? Can you pay your existing mortgage? Your car? Your food and other expenses?  After declining 50% in a year, then gold can go up, significantly.  Suddenly things will change.  Goods shortages will occur because there are more gold out there chasing fewer goods.   It will be crazy and wild gyrations, year in and year out.  This is not a joke, or a simulation, this is based on the ACTUAL price chart of gold over the past 15 years.
If you care enough to find and analyze at the data longer than 15 years, the gyrations will be even crazier.  Think your gold money cannot drop by a massive 80%? In a few years only?   Yea.. Think Again! It does and did happen.  Paper money may decline in value over multi decades, but it is never quite like what gold can do.  Gold is in essence, the bad boy of money.
Now, for the second part, let's take a look at the inflation rate of the United States, from the year 1996 until 2011.  The inflation rate was very stable.  What it means is that the purchasing power of your money is stable.  It decline slowly over time, but not much every year.  Besides, every year, everyone tends to make more money than the last, so the lost in purchasing power is properly compensated.
Looks like our grandfathers were right all along to remove gold many decades ago.  Since removing gold, our world had prospered.  If gold is reinstated, I think it will bring massive dislocations within economies of the world, frequent crashes and eventually, meltdown.  Remember the Great Depression anyone? I don't think anyone did, because only your great grandfathers will remember because you were not born yet.  Malaysia's GDP only declined by 6% or so in 2009, can you imagine if the GDP declined by 25%?? What will happen to you and your family? That's what happened during the Great Depression in the 30's.  It was caused, by none other than gold.
The following is a table of your salary, from 1996 to 2011, payable in actual gold money.  Say your salary started at 10 shiny gold coins in 1996, do you know what will happen to your salary after 15 years under the gold standard?
| | Status of World's Gold Supply | Starting Salary in Gold Coins | Remarks |
| --- | --- | --- | --- |
| 1996 | Stable | 10 | |
| 1997 | Surplus | 11 | You are able to get more gold |
| 1998 | Surplus | 13 | |
| 1999 | Surplus | 14 | |
| 2000 | Surplus | 14 | |
| 2001 | Surplus | 15 | |
| 2002 | Shortage | 13 | Not enough gold, you will get less |
| 2003 | Shortage | 11 | |
| 2004 | Shortage | 10 | |
| 2005 | Shortage | 9 | |
| 2006 | Shortage | 6 | |
| 2007 | Shortage | 5 | |
| 2008 | Shortage | 4 | |
| 2009 | Shortage | 4 | |
| 2010 | Shortage | 3 | |
| 2011 | Shortage | 1 | |

Your 10 gold coins salary will turn into 1, I repeat, only 1 gold coin because there is simply not enough gold to go around.  Did you wonder why gold's price is so expensive right now? It is because of supplies shortages! I don't know what you will be able to buy with only one gold coin left and God knows what happen to prices of all goods and services out there at that time.  By the way, forget any salary increases folks, you are not getting it, you will only get less…and less.
Sharif Rahman is the author of this article. He was invited by 1-million-dollar-blog to present his view regarding gold as money. He is the co-author of the recently released 259 Trillion Vs 5 Trillion book series (available in Amazon), presenting the banking system in action in full color illustrations and answering the popularly raised question of whether banks print money out of thin air and other questions such as exponential growth of debt and interest. He pointed out that gold's price started to go up back in 2005/2006 and therefore way before the Financial Crisis, so that did not caused gold's price to go up, the supply and demand of gold did!