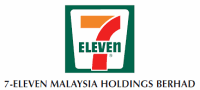 7-Eleven Malaysia Holdings Bhd, the operator of the country's biggest convenience store, is scheduled to be listed in Main Market of Bursa Malaysia on 30th May 2014.
The Initial Public Offering (IPO) consists of 530.32 million shares. 490.78 million are set aside for cornerstone/institutional investors, 34.05 million shares for Malaysian Public and 5.5 million shares to the eligible person.
The retail price of the offering is RM1.38 per share at RM0.10 par value. The final retail price will be determine through book building exercise. If the final retail price is less than the retail price, there will be a refund to the retail investors.
The IPO will raise about RM731.85 million in proceeds. Out of this, RM184.79 million will be use for capital expenditure, RM42.66 for working capital & RM22.86 million is for listing expenses. Upon listing, 7-Eleven will be a debt-free company, supported by strong cashflow.
As part of its immediate expansion strategy upon listing, 7-Eleven will allocate RM80mil per year to set up 200 new convenience stores and refurbish selected stores. It targets to open about 600 stores between now and 2016.
Going forward, the company's strategies were to consolidate its market position and improve profitability.
Compared with the other countries in Asia and globally, the convenience store segment in Malaysia is very underdeveloped. There were only 131 convenience stores per million people in Malaysia compared with 192 stores per million people in Thailand.
Standalone convenience store segment was expected to grow at a compounded annual growth rate of 9% in terms of the number of stores between 2013 and 2018.
To date, 7-Eleven has 82% local market share and as of March 2014, with about 1,600 stores nationwide.
Post-listing, 7-Eleven would be a debt-free company, supported by strong cash flow. After the IPO, the franchise business will be 51% owned by Berjaya Retail Bhd, which is ultimately owned by Vincent Tan.
This is the third time Berjaya Group, the parent company, is listing the convenient store unit. The previous two times were in 2001 and 2010.
The 7-Eleven IPO has attracted a number of foreign funds which make up seven of the eight cornerstone investors – Capital Research and Management, Genesis, AIA, Matthews International, Macquarie Fund Management, Albizia Capital, York Capital and local fund house UOB Asset Management.
More information regarding the company can be found in 7-Eleven webpage.
7-Eleven Malaysia Holdings intends to pay in between 30 to 50 percent of its profit after tax as dividend. Base on 2013 figures, this translate to dividend yield in between 0.91 to 1.52 percent or 1.26 to 2.10 sen per share.
The table below is the financial summary for 7-Eleven Malaysia Holdings Bhd.
| | FYE 2010 | FYE 2011 | FYE 2012 | FYE 2013 |
| --- | --- | --- | --- | --- |
| Revenue (RM'000) |  1,313,705 |  1,426,396 |  1,579,123 |  1,672,465 |
| Profit after Tax (RM'000) |  27,288 |  30,145 |  40,482 |  51,778 |
| Earnings per Share (sen)* |  2.21 |  2.44 |  3.28 |  4.20 |
| Price Earnings Ratio (x)* |  62.37 |  56.46 |  42.05 |  32.87 |
* Based on number of shares post IPO

Maybank Investment Bank and Kenanga Investment Bank are the joint principal adviser, joint bookrunners and joint underwriters for the of the IPO.
For those who are interested in 7-Eleven Malaysia Holdings IPO, you may subscribe at ATM machines or via Internet Banking. The subscription period is opened until 16th May 2014 at 5pm. Tentative balloting date is on 20th May while the allotment date is on 28th May 2014.
7-Eleven Malaysia Holdings stock name in Bursa Malaysia is "SEM".
View 7-Eleven Malaysia Holdings prospectus in Bursa Malaysia webpage.
What do you think about 7-Eleven Malaysia Holdings IPO? Are you going to subscribe?