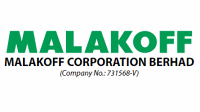 Malakoff Corporation Bhd, the largest independent power producer (IPP) in Malaysia, is scheduled to be listed in Main Market of Bursa Malaysia on 15th May 2015. This IPO will likely be the biggest in Malaysia this year.
The Initial Public Offering (IPO) consists of 1.52 billion shares, comprising of an offer for sale of up to 521 million existing shares and a public issue of 1 billion new shares. The retail offering portion involve 242.5 million shares would be for eligible directors, staff, people who contributed the company and Malaysian public.
The retail price of the offering is RM1.80 per share at RM0.10 par value. The final retail price will be determine through book building exercise. If the final retail price is less than the retail price, there will be a refund to the retail investors.
The IPO will raise about RM2.74 billion in proceeds. The proceed from the public issue of RM1.8 billion will be used to fully redeem RM1.8 billion Junior Sukuk Mushakarah. The proceed from Offer for Sale of RM939.1 million will accrue entirely to the selling shareholders.
Malakoff started off as a plantation-based company when it was incorporated in October 1975. It shifted to the power sector in October 1993 after it disposed of its plantation assets.
The company is the largest IPP in Malaysia and South-East Asia in terms of generation capacity. It has a sizeable portfolio of power generation assets in Malaysia, the MENA (Middle East and North Africa) region and Australia, according to Frost & Sullivan.
Since its privatisation in 2007, Malakoff has been growing its assets and expanded into international water production and the renewable energy business. The IPO will include several new assets under its stable including Port Dickson Power Plant, Macarthur Wind Farm in Australia and Al Hidd IWPP in Bahrain.
Currently, Malakoff is constructing the 1,000MW coal-fired Tanjung Bin 4, which would be its seventh power plant in Malaysia. The plant is scheduled to be completed next year.
Malakoff's domestic effective power generation capacity from six power plants, of which five are majority-owned by its subsidiaries and one is owned by its associate, is about 5,346MW. This represents 24.9% of Peninsular Malaysia's total installed capacity.
Internationally, Malakoff owns a net capacity of about 690MW of power production and 358,850 cu m per day of water desalination facility.
The IPO secured 12 cornerstone investors for its re-listing. They are Social Security Organisation (Socso) and Lembaga Tabung Haji, CIMB-Principal Asset Management Bhd, Maybank Asset Management Bhd, Maybank Islamic Asset Management Sdn Bhd, Great Eastern Life Assurance (Malaysia) Bhd, RHB Asset Management Sdn Bhd, UOB asset Management (Malaysia) Bhd, Hong Leong Asset Management Bhd, Eastspring Investments Bhd, Kencana Capital Sdn Bhd and Coston-Smith Asset Management Sdn Bhd.
The cornerstone investors have agreed to acquire about 533.8 million shares, representing some 10.7 per cent of the enlarged issued and paid-up share capital of the company.
More information regarding the company can be found in Malakoff webpage.
Malakoff  intends to pay not less 70 percent of its profit after tax attributes to the owners as dividend. Base on 2014 figures & IPO price of RM1.80, this translates to a dividend yield of 2.66 percent or 4 sen per share.
The table below is the financial summary for Malakoff Corporation Bhd.
| | FYE 2012 | FYE 2013 | FYE 2014 |
| --- | --- | --- | --- |
| Revenue (RM'000) |  5,587,608 |  4,717,419 |  5,594,484 |
| Profit after Tax (RM'000) | 547,815 |  234,658 |  412,844 |
| Earnings per Share (sen)* |  10.96 |  4.69 |  8.26 |
| Price Earnings Ratio (x)* |  16.43 |  38.35 |  21.80 |
* Based on number of shares post IPO

Maybank Investment Bank, CIMB Investment Bank and RHB Investment Bank are among adviser, bookrunner & underwriter for the IPO.
For those who are interested in Malakoff Corporation IPO, you may subscribe at ATM machines or via Internet Banking. The subscription period is opened until 28th April 2015 at 5pm. Tentative balloting date is on 30th April 2015 while the allotment date is on 13th May 2015.
Malakoff Corporations stock name in Bursa Malaysia is "MALAKOF".
View Malakoff Corporation prospectus in Bursa Malaysia webpage.
What do you think about Malakoff Corporation IPO? Are you going to subscribe?