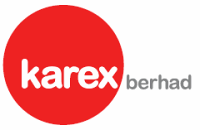 Karex Bhd, rubber products manufacturer is scheduled to be listed in Main Market of Bursa Malaysia on 6th November 2013.
The Initial Public Offering (IPO) consists of public issues of 40.5 million new ordinary shares and offer for sale of 27  million ordinary shares at an IPO price of RM1.85 per share.
Out of this, 13.5 million shares are allocated for application by Malaysian public and 6.8 million shares reserved for the eligible directors, employees, business associates and person contribute to the company. The remaining shares are for institutional & private placement.
The IPO exercise is expected to raise RM74.92 million and the proceeds will be used for capital expenditure (RM42mil), working capital (RM14mil), repay bank borrowings (RM10mil), listing expenses (RM5mil) and research and development (RM4mil).
Karex is the world's largest condom manufacturer with which currently has 10% of the global market share.
For the capital expenditure, Karex will develop its largest factory in Pontian, Johor, which was not far from the company's existing plant. Upon completion of the expansion of the factory, the total annual production capacity will increase from the current three billion pieces to six billion by end-2015.
Besides Pontian, the company also has factories in in Klang, Selangor and Hat Yai, Thailand.
On top of condoms, Karex also produces catheters, latex probe covers and lubricating jelly.
More information about Karex can be found in their website.
Currently, Karex Berhad does not have any fixed dividend policy.
The table below is the financial summary for Karex Bhd.
| | FYE 2010 | FYE 2011 | FYE 2012 | FYE 2013 |
| --- | --- | --- | --- | --- |
| Revenue (RM'000) | 157,444 | 181,753 | 188,751 | 231,389 |
| Profit after Tax (RM'000) | 16,529 | 6,988 | 12,016 | 29,028 |
| Earnings per Share (sen)* | 6.12 | 2.59 | 4.45 | 10.75 |
| Price Earnings Ratio (x)* | 30.22 | 71.48 | 41.57 | 17.21 |
* Based on number of shares post IPO
RHB Investment Banks is the principal adviser, underwriter and placement agent of the IPO.
For those who are interested in Karex IPO, you may subscribe at ATM machines or via Internet Banking. The subscription period is opened until 23rd October 2013 at 5pm. Tentative balloting date is on 25th October 2013 while the allotment date is on 4th November 2013.
Karex stock name in Bursa Malaysia is "KAREX".
View Karex prospectus in Bursa Malaysia webpage.
What do you think about Karex IPO? Are you going to subscribe?