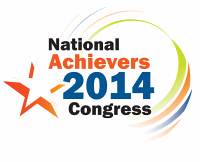 Remember FREE Gold Tickets Giveaway for National Achievers Congress 2014 contest that 1-million-dollar-blog sponsor last April? I was there and the event was excellent. I hope all the winners found it good as well.
Judging by the crowd turn out at the National Achievers Congress Malaysia (NAC) 2014, the 3-day event was a tremendous success. Held on 23rd – 25th May 2014 at the Malaysia International Exhibition & Convention Centre (MIECC), the event was a sold out with many late enthusiasts regretting that they had not purchased tickets earlier.
5,500 attendees came in droves to get the best seats at the congress and with notepads and name cards in tow, they were all eager and ready to network and soak up everything the presenters had to offer. The energy in the room was unbelievable. There was only one thing on their minds – success. They wanted to learn how to put success in their books from the individuals who have
made it.